2020 LEGENDS AWARD
JOHN E. KINNANE
(1862-1936)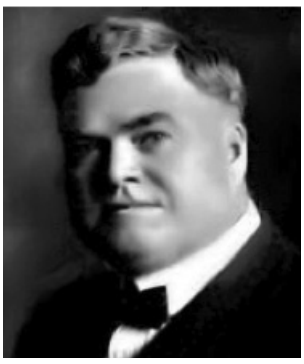 John Kinnane was born and raised on a farm in Southern Michigan. He earned a Bachelor of Arts degree from Kalamazoo College. After holding several positions, in 1912 he was appointed as a chairman of the Michigan Industrial Accident Board and was instrumental in creating the Michigan workers' compensation system. In addition, his desire to learn from and share ideas on system operation resulted in the founding of the National Association of Industrial Accident Boards and Commissions in 1914, which became the International Association of Industrial Accident Boards and Commissions (IAIABC) in 1915.
In his role as Chairman, Mr. Kinnane was instrumental in interpreting the newly adopted workers' compensation laws and creating a system of administration for their implementation. Workers' compensation laws were in their infancy and Chairman Kinnane recognized the importance of creating an administrative system that reflected the grand compromise between labor and management.
In his own words:
"One account of the comparative newness of the system on the side of the Atlantic,
The experience of our boards and commissions which have been engaged in the work is eagerly sought, and a comparison of experiences and a general interchange of ideas and views cannot fail to be of value to all."
What began as a small gathering in Lansing, Michigan has grown and thrived over the past 106 years. Today, stakeholders from around the world continue the IAIABC's mission to reduce harm and aid recovery from occupational injuries, illnesses, and fatalities. This purpose has continued uninterrupted, as generations have responded to current challenges and change in the economy, labor force, and workplace.
For this legacy, John E. Kinnane is honored as a workers' compensation legend.
PREVIOUS LEGENDS
2019
Crystal Eastman (1881-1928)
In 1910 Crystal Eastman published "Work Accidents and the Law" thereby earning a position with the New York State Commission of Employee's Liability and Causes of Industrial Accidents. In her position, she drafted the first workman's [sic] compensation law, which became a model for similar laws across the country. Following her work in New York on the State Commission she continued to advocate for occupational safety and health for the U.S. Commission on Industrial Relations during the Woodrow Wilson administration. A labor lawyer, suffragist, feminist, journalist and co-founder of the American Civil Liberties Union, Crystal Eastman stands tall as a Legend in the field of Worker's Compensation.
2018
Judge Irvin Stander (1907-1993)
The Hon. Irvin Stander, the memorable Pennsylvania referee (later Judge) and bar association lecturer, began his career in the workers' compensation field in 1972, when he turned 65. He was to work in the referee job for over 20 years, finally retiring as Judge at age 86. So dedicated to scholarship and excellence in the field was Judge Stander that the Workers' Compensation Law Section of the state bar association awards its top honor in his name, The Irv Stander Award, presented to the lawyer whose dedication to the administration of workers' compensation law, clients and professionalism serves as an example to others.
2017
Frances Perkins (1880-1965)
In February 1933, President-elect Franklin Roosevelt asked Frances Perkins to serve in his cabinet as Secretary of Labor. She outlined for him a set of policy priorities she would pursue: a 40-hour work week; a minimum wage; unemployment compensation; workers' compensation; abolition of child labor; direct federal aid to the states for unemployment relief; Social Security; a revitalized federal employment service; and universal health insurance and made it clear that Roosevelt's agreement with these priorities was a condition of her joining his cabinet. Roosevelt endorsed them all, and Frances Perkins became the first woman in the nation to serve in a Presidential cabinet.
2016
Samuel B. Horovitz (1887-1995)
Samuel Horovitz is best known for founding NACCA, the National Association of Compensation Claimant Attorneys, later to be known as the Association of Trial Lawyers of America (ATLA), and now known as AAJ. The formation of NACCA is described in vivid detail in David vs. Goliath; ATLA and the Fight for Everyday Justice, by Richard S. Jacobson and Jeffery R. White, published by ATLA Press in 2004. In late 1944, Sam had just published Horovitz on Workmen's Compensation and shined an "unwelcome spotlight" on the thousands of injuries and deaths in workplace.
2015
L. Arthur Larson (1910-1993)
Professor L. Arthur Larson is recognized as perhaps the nation's leading scholar in the field of Workers' Compensation law. In 1952, while a Professor of Law at Cornell Law School, he published the Law of Workmen's Compensation (Matthew Bender, 1952). His treatise is well known to all practitioners in the field and has been widely cited before Boards, Commissions and the Courts including the US Supreme Court. His son, Lex Larson, a 2015 inductee as a Fellow, has continued with the publication and update of Larson's Workers' Compensation Law.