2022 LEGENDS AWARD
BENJAMIN MARCUS
(1906-2003)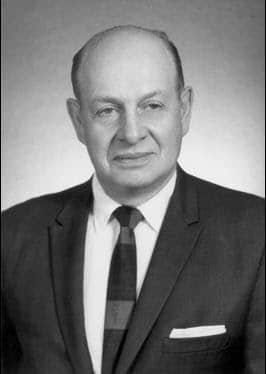 Benjamin "Ben" Marcus was born in Cincinnati in 1906, the son of a rabbi. He became a noted labor lawyer in Detroit and was counsel for the United Auto Workers in matters of health and safety. He also represented the Congress of Industrial Organizations (CIO) as a member of the International Association of Industrial Accident Boards and Commissions (IAIABC) and was chair of the National Lawyers Guild and the American Bar Association's Committee on Workers' Compensation.
His work put him in contact with Boston lawyer Samuel Horowitz (College Legend 2017?) at a meeting of the IAIABC in Winston-Salem NC and both recognized the need for more legal knowledge on the part of plaintiffs' lawyers. According to David v Goliath: ATLA and the Fight for Everyday Justice, their vision led to the creation of an organization devoted to educating practitioners across the country. They vowed to communicate and educate each other working with unions across the individual states to lobby legislatures for more equitable laws to protect workers, increased compensation levels, and even the playing field which was then insurer/employer dominated.
In 1946, Ben and Sam traveled to Portland Oregon, and with several other like-minded lawyers founded NACCA the National Association of Compensation Claimant Attorneys (NACCA). NACCA published a scholarly journal on workers' compensation law edited for many years by noted Harvard Law Professor Roscoe Pound. NACCA later became the American Trial Lawyers Association (ATLA), known today as the American Association of Justice (AAJ).
Ben passed away in 2003 at the age of 96.
For these and his many other accomplishments, the College of Workers' Compensation Lawyers is proud to recognize Benjamin Marcus as our Legend of 2022
PREVIOUS LEGENDS
2020
John E. Kinnane (1862-1936)
Mr. Kinnane was instrumental in creating the Michigan workers' compensation system.  His desire to learn and share ideas resulted in the founding of the National Association of Industrial Accident Boards and Commissions, which became the International Association of Industrial Accident Boards and Commissions in 1915.  He was instrumental in interpreting the newly adopted workers' compensation laws and creating a system of administration for their implementation.
2019
Crystal Eastman (1881-1928)
In 1910 Crystal Eastman published "Work Accidents and the Law" thereby earning a position with the New York State Commission of Employee's Liability and Causes of Industrial Accidents. In her position, she drafted the first workman's [sic] compensation law, which became a model for similar laws across the country. Following her work in New York on the State Commission, she continued to advocate for occupational safety and health for the U.S. Commission on Industrial Relations during the Woodrow Wilson administration. A labor lawyer, suffragist, feminist, journalist, and co-founder of the American Civil Liberties Union, Crystal Eastman stands tall as a Legend in the field of Worker's Compensation.
2018
Judge Irvin Stander (1907-1993)
The Hon. Irvin Stander, the memorable Pennsylvania referee (later Judge) and bar association lecturer, began his career in the workers' compensation field in 1972, when he turned 65. He was to work in the referee job for over 20 years, finally retiring as Judge at age 86. So dedicated to scholarship and excellence in the field was Judge Stander that the Workers' Compensation Law Section of the state bar association awards its top honor in his name, The Irv Stander Award, presented to the lawyer whose dedication to the administration of workers' compensation law, clients and professionalism serves as an example to others.
2017
Frances Perkins (1880-1965)
In February 1933, President-elect Franklin Roosevelt asked Frances Perkins to serve in his cabinet as Secretary of Labor. She outlined for him a set of policy priorities she would pursue: a 40-hour work week; a minimum wage; unemployment compensation; workers' compensation; abolition of child labor; direct federal aid to the states for unemployment relief; Social Security; a revitalized federal employment service; and universal health insurance and made it clear that Roosevelt's agreement with these priorities was a condition of her joining his cabinet. Roosevelt endorsed them all, and Frances Perkins became the first woman in the nation to serve in a Presidential cabinet.
2016
Samuel B. Horovitz (1887-1995)
Samuel Horovitz is best known for founding NACCA, the National Association of Compensation Claimant Attorneys, later to be known as the Association of Trial Lawyers of America (ATLA), and now known as AAJ. The formation of NACCA is described in vivid detail in David vs. Goliath; ATLA and the Fight for Everyday Justice, by Richard S. Jacobson and Jeffery R. White, published by ATLA Press in 2004. In late 1944, Sam had just published Horovitz on Workmen's Compensation and shined an "unwelcome spotlight" on the thousands of injuries and deaths in workplace.
2015
L. Arthur Larson (1910-1993)
Professor L. Arthur Larson is recognized as perhaps the nation's leading scholar in the field of Workers' Compensation law. In 1952, while a Professor of Law at Cornell Law School, he published the Law of Workmen's Compensation (Matthew Bender, 1952). His treatise is well known to all practitioners in the field and has been widely cited before Boards, Commissions and the Courts including the US Supreme Court. His son, Lex Larson, a 2015 inductee as a Fellow, has continued with the publication and update of Larson's Workers' Compensation Law.